19 Aug

The Test that Hides the Total Number of Instagram Likes and Video Views

So you've probably heard the hoo-ha online about Instagram's latest test move – hiding the number of Instagram likes on posts and views on videos.

WHAATTT?!

That's right. It was first tested in Canada in May, and it's now being tested on some users in 7 countries. Although it's still only a test, many of Instagram's influencers are having a meltdown over it. One of these users, Michaela Testa who has around 45K followers, told Cosmopolitan UK that her Instagram profile keeps her in a full-time job – which she says depends on Instagram likes.

On July 17, Instagram revealed its motivation for this test update:

"We want your friends to focus on the photos and videos you share, not how many likes they get. You can still see your own likes by tapping on the list of people who've liked it, but your friends will not be able to see how many likes your post has received."

Well, this idea is nice and all. In fact, it has been applauded by many who think a 'like-less' Instagram could promote higher self esteem. But let's be honest, for many influencers out there it represents a utopian world where beauty and popularity aren't instant moneymakers. Let's get real, people!

As Madonna says: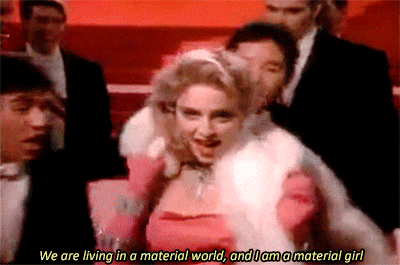 'Cause we are living in a material world and I am a material girl
Still, let's not kid ourselves. Behind every press statement is usually a business strategy. Instagram has been owned by Facebook for some time, and it has been criticized for favoring more embedded, pay-per-click advertising. The problem is, this could drastically change the way that influencers who work hard to get organic engagement use the platform.
I don't know about you, but I've thought hard about a future where Instagram likes aren't so visible or important. The point is, it doesn't have to look so bleak. We've known for a while now that content is king on Instagram.
No matter what algorithm or user-experience changes happen on Instagram, your business or influencer account should always aim to stay on top when it comes to content. This way, your profile will always be fresh, marketable and – most importantly – adaptable.
Related: 6 Tips to Massively Increase Instagram Engagement
OK, so even if other users can't see the number of Instagram likes on a post, or views on a video, are likes still important? The short answer is, yes.
Instagram Likes are still important, because
The more likes, comments and views you get, the more Instagram shows your post to other users
Remember when Instagram got rid of chronological feeds? Even if your audience can't see how many likes your post has got, it will still be pushed to the top of their feed or Explore page. Instagram's algorithm is based on how much engagement a post has received in a short period of time.
Instagram likes still matter for calculating your metrics
The most important metric you can calculate for your Instagram account is engagement. In order to see what percentage of engagement you're getting on each post, you need to use the following data: the number of likes and comments on a post in relation to how many followers you have. Later.com has an easy formula for how to calculate this.
Let's see, so we've established that Instagram likes are still going to be important for the foreseeable future, whether your audience can see them or not. But at the same time, you can't rely on just these numbers.
Likes and follows on their own are just numbers
There's no use having tons of followers and zero engagement
Instagram is a numbers game, but it's not always about how high your number is. It's about the percentage of engagement you're getting, relative to how many followers you have. For example, if you only have 500 followers, but 200 of them watch, like or comment on your post, then that's a big percentage of them engaging with your content.
Instagram tracks who has seen your content, too
It's true that not everyone who uses Instagram likes or comments on everything. Certainly, this is most true for video content. Instagram tracks the number of views on your videos, and also how many people watched it to the end. So whether the number of views on your video is public or not, it will still be important data that reveals if your videos are on point.
Instagram Stories get a lot of engagement without the need to show likes
For those still having a meltdown over likes, take a closer look at Instagram Stories. These temporary, 'like-less' videos can often get more engagement on your profile than any static post can. Certainly, people can still make comments, but they aren't public to everyone. Neither are the number of views. Instagram Stories is all about making short, interesting videos that can give a great personal insight into your brand or product.
Related: How Instagram Stories can Grow your Business
Brands are moving away from tracking Instagram likes and follows in favor of return on investment
With so many different ways for Instagram users to engage with brands now, it's no surprise that business accounts are looking directly at their ROI. Now you can practically set-up an online store on Instagram (well, at least some cool links to your own store), and see who has swiped up on a product to be directed to your online store.
Many in the industry agree that for brands, like and follows are becoming less and less important. The president of Socialyte, Beca Alexander said in an interview with Tubefilter in May that likes are the "least interesting metric".
In summary, you shouldn't give up on the power of the humble 'like' just yet. But just be aware that the tide is always changing with the way we use Instagram. And maybe, just maybe, not everyone is always going to like it!
So you know that authentic engagement is better than a simple like or follow, but just how do you get more of it? Aside from paid advertising on Instagram, you could try an automation tool like MegaFollow.
Unlike other automation tools, MegaFollow helps you put your Instagram account in front of the kind of people who already have similar interests and likes. This way, they're more likely to view your profile, actually want to follow you back, and engage with one of your posts.
Related: Instagram is getting rid of fake followers
Based on your settings, MegaFollow intelligently selects accounts in your niche to follow, and, after a period of time, unfollow. This way, your 'followers' and 'following' counts are always in balance (it's much better to have more followers than accounts you are following).
MegaFollow uses your Instagram account to automate likes, comments, follows and unfollows based on your needs - so you can attract new, real and organic followers.
Tailored references for you