09 Sep

5 tips to increase engagement using Instagram ad images

Get the engagement you need and you want. There can often be times for digital marketers when it feels like you're fighting a losing battle. You've put effort into building your Instagram brand, engaging with the right audience and structuring a series of ads that you feel just can't fail…

…yet they don't get the results you want.

Trying to identify what the causes are can be tricky. Was it the ad copy, the formats, maybe the ad placements?
In this article we're looking at an often overlooked factor of Instagram ad campaigns that can make a huge difference to your engagements: the images.
Running Instagram ad campaigns to increase your engagement
Last year, spending from Instagram ad campaigns surpassed $6.8 billion. When compared to other social media platforms, Instagram and Facebook advertising accounted for 83% of total ad spending.
What this tells us is that more and more digital marketers are putting in hours of work and countless dollars to push their products with Instagram Dynamic Ads.
But are they actually using that time and money in the right ways?
Often, they're not.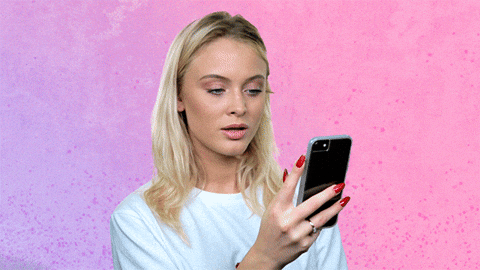 When you need to un-see something…
You may have a great targeting strategy and amazing ad copy. But when 80% of that ad (the image!) is not impressing your audience, you probably aren't going to achieve your engagement and conversion goals.
When advertising on social media newsfeeds, you're not just competing with fellow e-commerce businesses. Your ads will be vying for your audience's attention alongside their friends and family.
Therefore, standing out enough to earn clicks and purchases is a hard task for digital marketers.
Why are the product images important for Instagram?
It's no secret that Instagram is built for exciting visuals. Our brains are built to look for the image first, with 90% of information transmitted to the brain being visual.
According to the latest studies, for social media posts of any kind, you have a maximum of 1.7 seconds to capture your viewer's attention before they move on to the next post in their feed.
As Nate Birt, a content marketer at Visually puts it:
"High-quality visual content can have a major impact on your conversion funnel…researchers have discovered that visual content is simply processed differently than text. Visuals communicate more information, more effectively."
Now we know the statistics behind it, let's take a look at a few easy tips to get the most out of your Instagram ad images:
1. Include your logo and branding
Showcasing a tailor-made design within your image is an effective way to take ownership of ads. It makes them stand out in competitive social media platforms like Facebook and Instagram.
I don't need to tell you that by using your logo and brand consistently across all your customer touch points, you increase the chances of brand recognition.
Related: let people know that you're authentic get verified on Instagram (a.k.a.: BLUE BADGE).
This is even more relevant when it comes to Dynamic ads for Instagram. These are designed to retarget visitors who have already engaged with your business in some way, and therefore have a greater chance of responding to your ads.
Remember that your Instagram ad campaigns are pay per view, so you want to take every single chance to show your value. This is valid both directly through actual ad conversions and indirectly through effective branding.
2. Add promotions and sales messages
Compared to some advertising mediums, Instagram gives marketers a lot of creative freedom.
The promotional messages which you add to your Instagram ads don't just have to be included in the ad copy. Adding relevant labels to your ad images will not only make them more eye-catching but will emphasize the purpose of the ad.
If the competition for ad places on Instagram wasn't already enough, around major holidays, hundreds of rival businesses will be running promotions via their Instagram ads. This is when it's more important than ever to take the step to make your images stand out.
Even if it sounds super obvious, phrases like "free shipping" "Best seller" or "Black Friday sale" really do draw the eye and will be more likely to lead to conversions.
3. Don't take it too far with your Instagram ad Images!
Remember when I said above that you have about 1.7 seconds to capture the viewers attention with your Instagram posts? Keep that in mind when creating and optimizing your ad images.
Although you want them to look interesting, there really is a limit to how much information, color and text the human brain can take in during that short space of time.
For this reason, don't go over the top in the branding, promotional text and logos you are adding to product images.
Admittedly, this is actually an image I created myself! But some social media advertisers can get carried away and produce visually over-the-top images for an Instagram product ad!
Different audiences scroll through their feeds at different speeds (on average, we each get through around 90 metres of social media content each day!), but as we've already established, you generally have about 1.7 seconds to get your message across.
4. A/B Test your changes
The tips which I have outlined above have all proven to increase Instagram ad engagement and conversions time and time again. But if you don't measure these changes you are making, how will you know what has the greatest effect?
A/B Testing is the final building block in the wall of great Instagram ad campaigns. It shouldn't be news to you that it's vital to keep monitoring and analyzing your ads stats to optimize and maintain high performance.
This case cited by Facebook looks at how eMFORCE were able to increase click-through-rates on their ads by 23% and cost per click by 30% – simply by A/B testing their Instagram Stories Ads.
Watch each ad's performance for a set period of time to analyze how added promotions, logos, borders, sales pricing performed, and then take actions accordingly.
Optimize Instagram images to leverage engagement
This article has given just an insight into the vital role that images play in your Instagram campaigns, and the long-term benefits that optimization can have. Time and again, we've seen that adding eye-catching designs and promotions to images makes a real difference.
If you are running Instagram ad campaigns for lots of different products, it will take a very long time to implement these tips and improve your ad images one by one.
That's why WakeupData have created a tool that lets you apply any changes to a single, dynamic image template. These templates can then be easily applied to all other relevant products in that ad set with a minimum of fuss.
Then, all that's left to do is to keep analyzing the performance of your ads and watch your engagements increase!
Related link: 10 Content Tricks & Hacks for Your Instagram Feed 2019
Thanks to Ben Culpin for this awesome article about getting the Engagement you want.
Ben is a content marketer for WakeupData, a data feed management company driven by its mission to help empower e-commerce businesses. He specializes in creating valuable, actionable content which will save online merchants time and money.
MegaFollow uses your Instagram account to automate likes, comments, follows and unfollows based on your needs - so you can attract new, real and organic followers.
Tailored references for you
The rules of Instagram continue to change, and plenty of businesses are stressing over how badly it's affecting their social media game. That's when Instagram Growth Hacks come to save the game: Killer hacks to level up your Instagram power.