12 Sep

How to Keep Your Instagram Safe from Hackers

Business owners should make keeping their Instagram accounts secure a priority.

Building a presence on the platform not only takes time and persistence, it requires gaining the trust of your customers.

And an account hack can take all of that away from you.

There's reason to be worried, too.

Last month, Mashable reported an Instagram hacking spree, with tons of people complaining of a similar pattern: being locked out of their account, having their passwords changed, and finding their associated emails altered to a .ru (Russian) domain.

This may seem frightening, but we've got your back. Here are three smart ways to prevent hackers from getting into your Instagram account:
1. Create a Strong Password
First of all, choose a password that's hard to guess. The more complicated it is, the less vulnerable your account will be to hackers.
Make sure your password is long (security experts recommend a minimum of 8 characters), and don't forget to include numbers and symbols (!, ?, }, etc).
It really goes without saying, but stay away from the obvious. Like your name or birthday.
If you're human like us though, it's likely that you are not able to remember random strings of numbers and letters for multiple accounts. Or even one! That's fine.
You can always use a password manager, like LastPass, to keep track of all your important passwords.
Note: Be careful of being auto-logged in on your phone. Always secure your device with a difficult PIN or password to prevent others from accessing your information.
Additionally, you can use the Have I Been Pwned? site to see if your email address (connected to your Instagram) has been compromised in a data breach.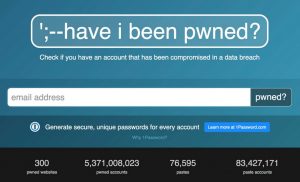 If you find a threat, change your password at once or shift to a new account if you can.
2. Turn on Two-Factor Authentication
Two-Factor Authentication (2FA) is a feature that links your Instagram account to your mobile number.
You turn it on and if there is a sign in to your account from an unfamiliar device, Instagram will text you a verification code necessary to access your account.
This means your email/password won't be enough to get into your account from a new device. You'll need your phone too. Two factors! Cool, right?
To switch 2FA on, open the Instagram app, navigate over to your profile, and click on the Settings tab. Find "Turn on Two-Factor Authentication" and click on it.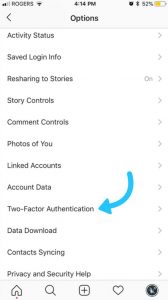 Now, wait for Instagram to text you a confirmatory code.
Once you get the code, simply copy and paste it onto the Instagram dialogue box asking for it. That's it, you're all set!
Recently, Instagram announced a cool update for it's 2FA feature. You can now also download a third-party authorization app to receive your verification code instead of receiving it through text.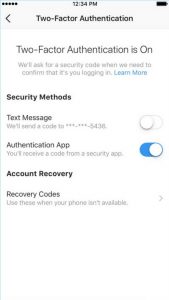 Remember, your Instagram account is only as safe as the email address associated with it. For this reason, we recommend you turn on Two-Factor Authentication for your email accounts too.
Here's how to do that for Gmail and Microsoft.
3. Block Access to Suspicious Third-Party Apps
The latest version of the Instagram Security Tips mentions that you should "Think before you authorize any third party app".
This means you should always be vary of giving any suspicious app access to your personal information or your Instagram account. Avoid downloading any app that violates Instagram's Terms of Use or Community Guidelines.
To manage and/or remove any of your current third-party apps, open your Instagram profile on your desktop computer, navigate over to the Settings button, and click on "Authorized Apps."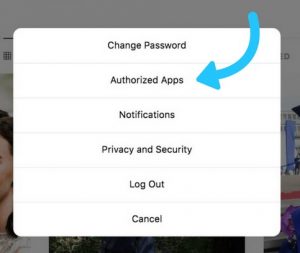 Is Instagram Automation Secure?
Instagram automation tools are a business owner's best friend when it comes to liking, commenting, sharing, and doing more to increase engagement and retain followers.
Unfortunately, revoking access to third-party apps also leaves out most Instagram bots.
Luckily, there is a solution:
The MegaFollow automation app is secure, follows all of Instagram's guidelines, and does not save your password. At the same time, it makes sure that you remain on top of your business by employing algorithms to increase your follower count.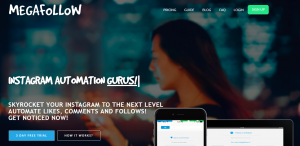 Keeping social media safe from hackers is on top of the mind of most business owners today.
As hackers get smarter, it's important that businesses at least have a common-sense line of defense, even if they don't hire experts to run their accounts. These tips should help you get started!
Got any comments or suggestions? We'd love to hear from you. Feel free to let us know!